Le arti per via (Street arts) / I Burattini (The puppets)
A street puppet-show (Punch and Judy): the young puppet-master comes out from behind his booth as a blind fiddler plays to draw in the crowds. c.1765 Etching and engraving.
Published by: Nicolo Cavalli
After: Francesco Maggiotto
Print made by: Giovanni Volpato
Italian, 1760-1770
A puppet theatre on an open space in a town, a crowd gathered in front of it, a woman carrying a basket on her head seen from behind at centre, several market stalls in right background, a dog and a broken column in lower right
Etching with engraving
Print made by: Cornelis de Wael
1607-1667 (c.)
Interior of a peasant house with a girl holding a puppet in front of another child, a door with two shutters beyond
Etching
Print made by: Christina Chalon
1763-1808
Moqueuse
A young woman, seated on the end of her bed, holding up a Japanese puppet; an impression from 'L'Art'. c.1882
Etching
Print made by: Albert Artigue Printed by: L Rayon aîné
French, 1882
The Fantoccine
A young boy holding a small puppet theatre, standing before another seated on the ground at left, river with boats behind; after R. Edmundstone; illustration to 'the Sportsman'(?); proof before letters. 1836
Etching and engraving, printed on chine collé
After: Robert Edmonstone Print made by: Timothy Stansfield Engleheart
British
1836
by Heva Coomans, "The Puppeteer".
by Edmond Eugene Valton, "The young puppeteer".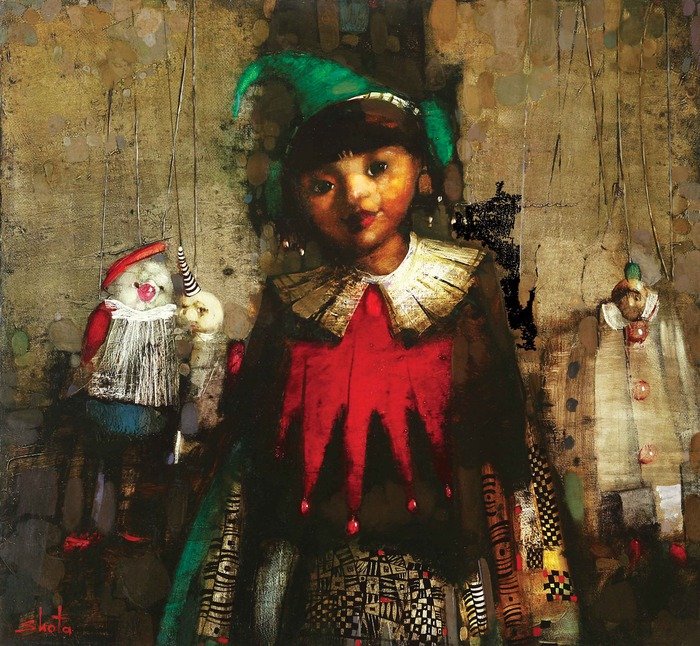 Little Puppeteer by Shota Voskanyan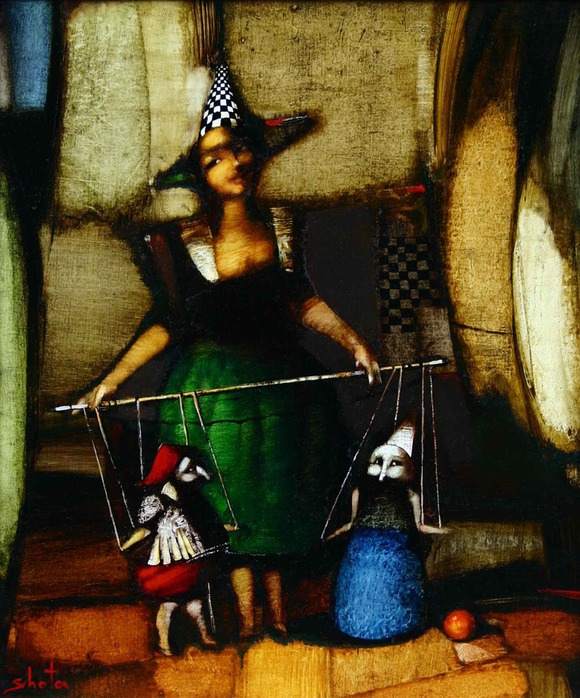 Lady with marionettes by Shota Voskanyan.
Marionette by Shota Voskanyan
The show by Shota Voskanyan
Clown in a red cap by Shota Voskanyan
by Vida Gabor
Stefan Caltia, Puppeteer and White Clown.
Felicien Rops, Lady with Puppet.
The young puppeteers by Charles Thomas Bale
Puppet show in Maurice Sands studio by Baron Dudevant Jean Francois Maurice Sand (1870)
The Puppet Show by Theophile Emmanuel Duverger.
The Puppet Show by Theodor Kleehaas.
A Puppet Show on the Artists Verandah by William Prinsep.
The Puppet Show by Conrad Grob.
A Puppet Show on the Piazzetta, Venice
by Canaletto.
by Tom Mannion.
A Marionette Show in a Town Square by British School.
Portrait Of The Artist's Two Sons With Their Puppet Theatre by Marcellin Desboutin.
The fool and his double by the French artist José Frappa (1854-1904)
Punch and Judy by Arthur Boyd Houghton, 1860.
by Herman Berserik.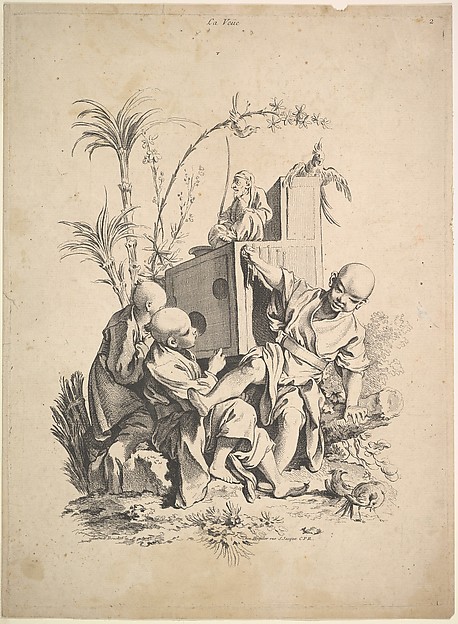 Chinese Peepshow by François Boucher.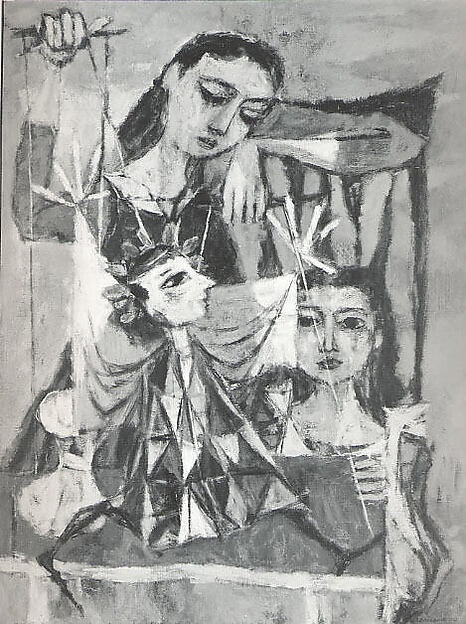 Puppet and Child by Sueo Serisawa.
The Fete at Saint-Cloud, detail of the Puppet Show by Jean Honor Fragonard.
Guignol in the village by Mrs Dujardin-Beaumetz Petiet
The Punch and Judy Show by Edward Robert Smythe.
The Puppet Theatre by Achille Pinelli.
The Puppeteer by Charles Swyncop.
Young Girl With A Puppet by Berthe Morisot.
The Puppet Show by Albert Roosenboom, 1870's.
The Puppet Show by Victor Gabriel Gilbert.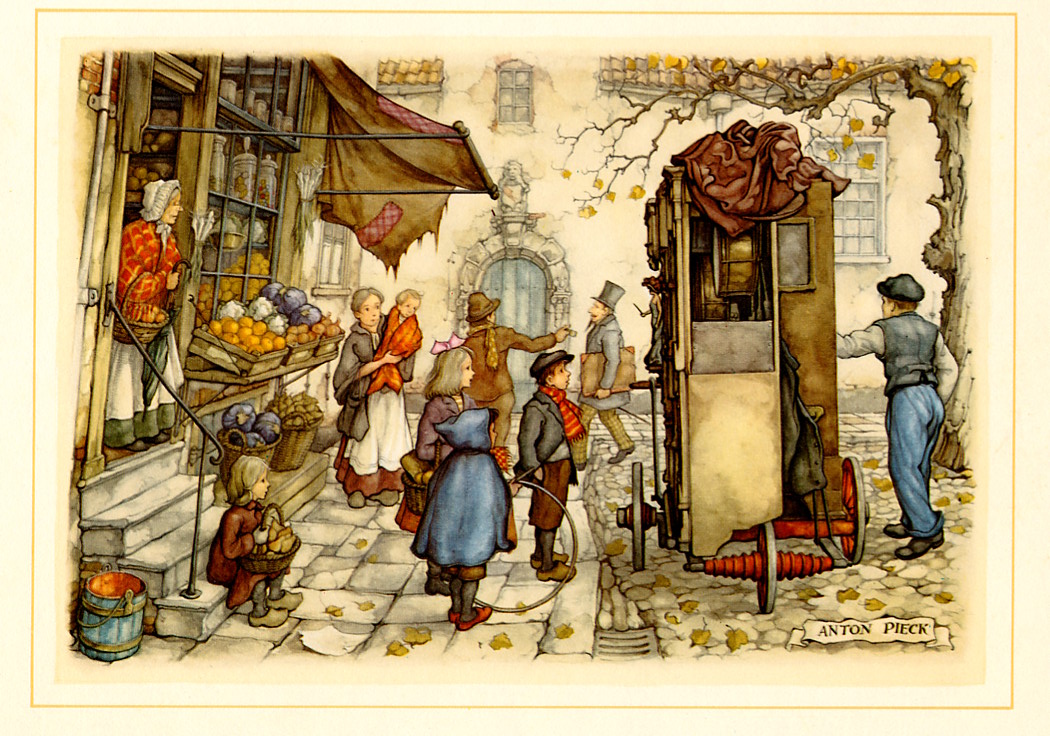 by Anton Pieck.
Материалы с сайтов:
www.bbc.co.uk/
www.art-prints-on-demand.com/a/art-prints/
www.britishmuseum.org/
www.1st-art-gallery.com/
shotavoskanyan-shota.blogspot.ru/
@темы: Живопись, Картины великих художников, Персонажи комедии дель арте, Рисунки